Setting Goals? The End Is the Beginning
By Dr. Jim Kirkpatrick and Wendy Kayser Kirkpatrick
Marisa sat at her desk for the first time in the new year and thought about her goals:
Update the company's leadership development program
Address requests for less time spent in training
Implement new learning software
"Where do I begin?", she thought.
Remember, the end is the beginning.
The End is the Beginning
What do we mean by the phrase, the end is the beginning? The first step in achieving a goal is to define the highest level result you seek. The result is typically comprised of a number of smaller outcomes that each contribute to the ultimate result. Once the overall desired result and smaller outcomes are identified, work backwards to define what you need to do to accomplish the goal, and then what you need to learn or must have to do it.
Ultimately what you are doing is implementing The Kirkpatrick Model by using the four levels in reverse.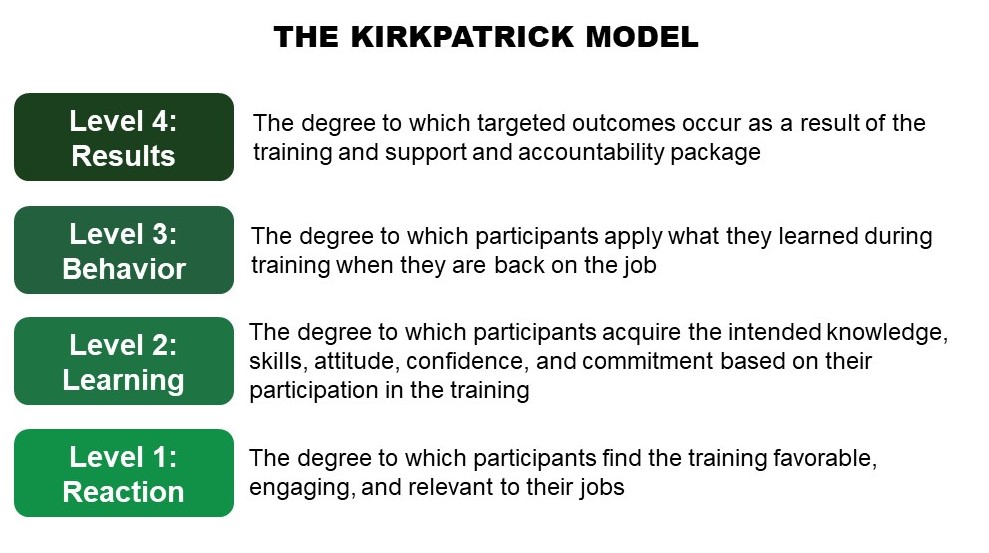 Goals Are Simple, But Not Easy
Nearly every goal-setting philosophy begins with defining a clear vision of the desired end result. While this may seem straightforward, determining a high-level end goal is not always intuitive. Often, people focus on their personal role or smaller outcomes in a larger project and mistake that for a goal or outcome.
In the world of training and development, many workplace learning professionals with the best of intentions embark on designing, developing, and delivering training programs without a clear vision of what is expected as a result of the program. There also is lack of clarity about what qualifies as a "result" of a training program. They mistake the program itself for an outcome when in reality it is something that needs to be done at Kirkpatrick Level 2 to enable the higher levels to occur.
Start with Level 4 Results
To achieve maximum organizational impact, the result should lie at the strategic level for the entire company. Examples include increased sales or profitability in a for-profit company and accomplishment of the organization's mission for a government or not-for-profit organization.
Organizational missions can range from saving lives and protecting citizens to keeping the water supply clean. Tying a training initiative to the organizational mission means that training is only one of myriad tactics that affect results. This makes it costly and mathematically impossible to isolate the impact of the training program alone on the organizational results attained.
Use ROE to Show Value
The most practical and effective way to show the value of an initiative is through return on expectations (ROE). ROE is what a successful training initiative delivers to key business stakeholders to demonstrate the degree to which their expectations have been satisfied. When done properly, it cannot fail. This is because it is built on a platform of business partnership and agreement from start to finish.
The steps to achieving ROE are based on the Kirkpatrick Model for evaluating training programs with the four levels used in reverse:
1. Focus on the organizational mission (Kirkpatrick Level 4: Results)
2. Identify leading indicators
3. Define critical behaviors (Kirkpatrick Level 3: Behavior)
4. Determine required drivers.
5. Design learning (Kirkpatrick Level 2: Learning)
6. Monitor and adjust
Looking for more? Read our free white paper on how to create and demonstrate program value.
Pick up our latest book and learn how to implement The Kirkpatrick Model to maximize program outcomes.
Looking for the Easy Button?
If you're looking for the fastest and easiest way to learn how to create and demonstrate program value, get Kirkpatrick Certified.
Here is our schedule of upcoming public programs.
Not sure if this program is right for you? Contact us to discuss your needs in more detail.